Siam Orchid
Palo Alto, CA
I am a two time offender.
When in season, they offer fresh young coconut juice as a beverage. The offering comes with a spoon which you can use to dig out the coconut meat.
The appetizers behind are a variety of spring rolls and yam+veggie samosas - I've had a bevy of their appetizers by now and have yet to encounter one I didn't like!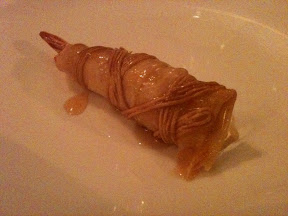 An unusual marinated shrimp roll wrapped in cheese and wonton wrapper an rice noodle before being lightly fried. They are presented on a bed of lettuce and onion curls in a martini glass. The second time I ate here, I ordered one all for myself.
Shrimp, peanuts, and various other fixings in a lettuce leaf with some of their special sweet/sour sauce. One delicious mouthful.
Finally, the entree! By this point though I was already so full I only finished half the salmon.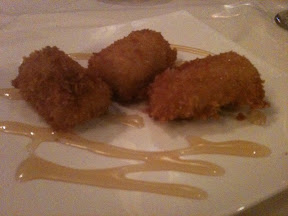 But that still didn't keep me from trying their dessert. It was delicious enough for me to brave the over-full feeling from eating 2 of these by myself.
- Posted using BlogPress from my iPhone